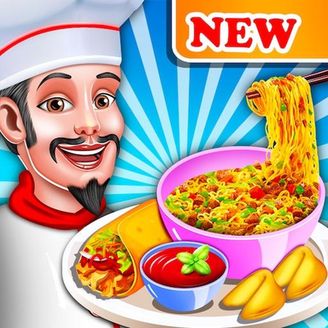 Chinese Food Restaurant - Lunar New Year Party
Play Game
Chinese Food Restaurant - Lunar New Year Party
Play Chinese Food Restaurant - Lunar New Year Party online in your browser and enjoy with GamesFrog! Chinese Food Restaurant - Lunar New Year Party is COOKING game that you can play free on our site. This game has cooking, girl, boy, food, kids, candy, chicken, restaurant tags and this game has been played 7 times. If you love Cooking Girl Boy Food Kids Candy Chicken Restaurant games you can also find other games on our site with GamesFrog. Below you will find control to play Chinese Food Restaurant - Lunar New Year Party.
Every one is busy in the preparation of Chinese Lunar new year. In this day people flocked to the Chinese restaurants, to eat yummy Chinese food. Do you also love Chinese food? Then, just come in our Chinese Food Restaurant and taste different Chinese food. In this restaurant you can enjoy tasty food like Chinese Bhel, Chinese Manchow soup, Schezwan Franky, Schezwan Rice, Chicken Nugdets, Fortune cookie and Chicken Hongkong. The more benefit of this cooking restaurant is you can also try all this food recipes at your home. Get ready to be a kitchen chef with the help of Chinese Food Maker and make your Lunar New year more existing. Follow some easy step and your favorite Chinese dish will get ready in a few minutes. Decorate ready dishes with lots of different toppings and side dishes. You can virtually taste your dish also. It is really fun.
How to play:
Chinese Food Restaurant is fun educational free game for kids, girls and boys! Satisfy your craving with Chinese Food Maker. Learn to make a mouth watering meal in this Lunar new year and take a blessing from your friends and family members.
Comments