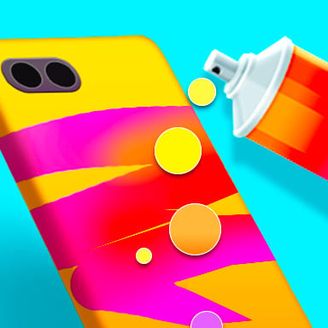 Play Game
Phone Case DIY 2
Play Phone Case DIY 2 online in your browser and enjoy with GamesFrog! Phone Case DIY 2 is GIRL game that you can play free on our site. This game has girl, fun, html5, mobile, cute, fashion, coloring, kids, design, color tags and this game has been played 29541 times. If you love Girl Fun HTML5 Mobile Cute Fashion Coloring Kids Design Color games you can also find other games on our site with GamesFrog. Below you will find control to play Phone Case DIY 2.
Do you have artistic talent? If you are not sure about your artistic talent. The new released Phone Case DIY game can help you discover it. The pretty girl wants to attend her sister's party and she needs you to design the latest phone case for her. We picked many beautiful colors, stickers and phone case models for you. We have also prepared 3 different making processes for you: By choosing Stencil art, you can spray lots of pretty patterns on the phone case. By choosing Pop it, you will enjoy the fun of Pop it...Trust us, no matter what color you spray on the phone case and what making processes you choose, it always comes out pretty. Come and play this game to find more fun stuffs!
How to play:
Mouse or tap to play.
Comments