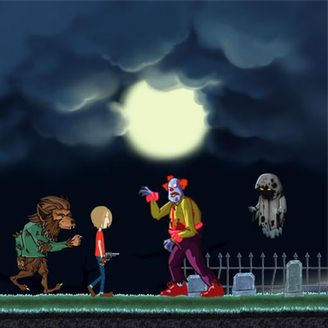 Creepy Clowns in the Graveyard
Play Game
Creepy Clowns in the Graveyard
Play Creepy Clowns in the Graveyard online in your browser and enjoy with GamesFrog! Creepy Clowns in the Graveyard is ADVENTURE game that you can play free on our site. This game has platform, ghost, halloween tags and this game has been played 29818 times. If you love Platform Ghost Halloween games you can also find other games on our site with GamesFrog. Below you will find control to play Creepy Clowns in the Graveyard.
You and your girlfriend went for a walk through the graveyard at night and met up with some creepy clowns and some other unexpected ghouls.
How to play:
Arrow keys to move, mouse click to shoot. On mobile: on screen arrows to move, tap screen to shoot.
Comments