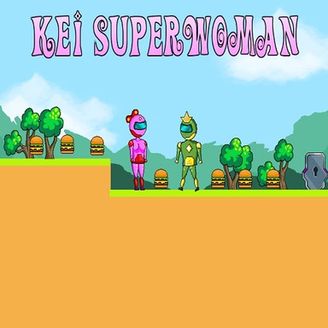 Play Game
Kei Superwoman
Play Kei Superwoman online in your browser and enjoy with GamesFrog! Kei Superwoman is ADVENTURE game that you can play free on our site. This game has adventure, arcade, girl, platform, 1 player, superhero, 2d, collecting, jumping, pixel, retro, burger tags and this game has been played 28231 times. If you love Adventure Arcade Girl Platform 1 Player Superhero 2D Collecting Jumping Pixel Retro Burger games you can also find other games on our site with GamesFrog. Below you will find control to play Kei Superwoman.
Kei Superwoman is a 2D platformer where you play as Kei, the Superwoman, who have to collect burgers for civilians who are imprisoned behind the security doors. You have to collect all the burgers while avoiding the spikes, saws, ground saws, enemies, and reach the Security Exit door in order to go to the next level. There are 8 levels to play and the difficulty increases as you proceed.
How to play:
Use "WASD" or "Arrow" keys for the player's movement. Use "W" or "Up" arrow key twice for double jump.
Comments