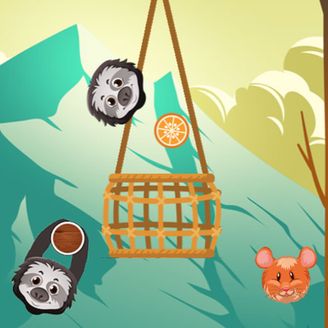 Play Game
Slings to the Basket
Play Slings to the Basket online in your browser and enjoy with GamesFrog! Slings to the Basket is PUZZLE game that you can play free on our site. This game has puzzle, collecting, animal, avoid, kids tags and this game has been played 29926 times. If you love Puzzle Collecting Animal Avoid Kids games you can also find other games on our site with GamesFrog. Below you will find control to play Slings to the Basket .
Slings to the Basket is a puzzle game where you need to slings player from one point to another to get to the basket. You can bounce of the game sides. Avoid obstacles and collect fruits on the road to the baskets. When you are in red points you need to pass that point faster because the point will disappear. Try to pass the level without lose live. This game has 20 levels. Each next level is more harder than previous. Be focused and have fun. You can change the player skin. Select your lucky player and start the game.
How to play:
Tap on screen to play this game.
Comments