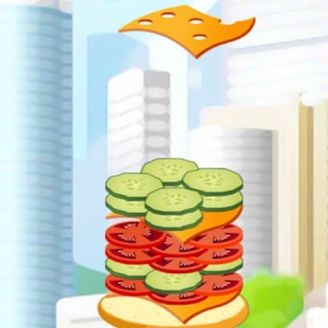 Play Game
Burger Super King Sim
Play Burger Super King Sim online in your browser and enjoy with GamesFrog! Burger Super King Sim is ARCADE game that you can play free on our site. This game has skill, 1 player, html, html5, mobile, android, 2d tags and this game has been played 29130 times. If you love Skill 1 Player HTML HTML5 Mobile Android 2D games you can also find other games on our site with GamesFrog. Below you will find control to play Burger Super King Sim.
This casual game requires you to assemble burgers that include the required quantity of relevant components to progress through each level. Using your left and right hands, move the burger around to capture falling components such as tomato slices, cheddar cheese, smoked ham, onions, and other vegetables as they fall. Your burger will eventually reach extraordinary heights, nearly surpassing the height of a skyscraper in terms of vertical height. Every single one of our Android games is completely free, and there are no in-app purchases to be found anywhere in them. Begin by starting your browser and pressing the "Play" button!
How to play:
Touch and mouse pc to fun!
Comments